Hi guys, I made this detailed guide to teach you How To Use Vegas Pro with the basics of editing a video. I personally use version 15. Anyway, the guide applies to all versions of Vegas Pro.
This video editing software tool was originally brought into the market by Sonic Foundry, then was taken over by Sony Creative Software and currently by Magix.
If you are developing a hobby of making videos, you might have understood by now that there are a lot of tech things out there that you can bring into use and they make your job really easy.
The best thing about the software is that it runs of the Windows OS, an almost ubiquitous operating system and it doesn't need any specific hardware.
Thus you can use any standard Windows computer on a wide range of hardware to run Vegas Pro.
Vegas appeared and is still appearing in the form of a number of versions since its advent.
The latest version Vegas Pro 16 has some excellent new features and can make your video making process easy, fast and perfect.
Vegas Pro For Beginning
1. Importing Videos
To start with, click on the "file" option in the top left corner of the screen.
A drop-down menu will appear. Click the "import" option.
Now there will be a side menu from which you have to hit the "Media" option. This will open the file browser.
Select the file you want to edit. After you click "OK" on the browser window, the file will appear in front of you.
Drag it to timeline for further editing.
2. Sony Vegas Timeline
The Sony Vegas window contains the Timeline in which there are all audio and video files that you may want to edit further.
In this collection, the audio clips will contain music and other sound effects, while the video clips will consist of videos, photos, and texts.
There is also an "add video track" option which you can use for creating additional timeline space as per your requirement.
3. How To Add Effects In Sony Vegas
Now you can edit the content on your timeline and make it more attractive by making use of the special effects.
Hit the "effects" option. You'll find this on the tab on left side of the screen.
Choose an effect you want.
Click and drag it to any video file available in your timeline. You will also be asked for the modification of the effect ratio.
Once you tune your effect to any situation you want, close the modifier and the effect will start running.
4. How to Blur Faces or Any Moving Objects
In some situations, you prefer to hiding certain faces or other objects in your videos due to reasons like someone may be upset or distracted or the information may be sensitive, etc.
In such a case, blurring is a good idea. It helps to retain the video's aesthetics without having to delete anything. Here again Vegas Pro offers you help in making your video socially acceptable.
This software assures you that human energy and time invested in filming the video will create a net positive ROI.
Blurring can be done in four simple steps.
Import Video File
Choose the "import" option from the prime menu by browsing through the locations and next drag the desired video into your timeline to begin with the effects.
Duplicate the Video
Once the video is imported, right click on it and select the option of "Duplicate Track". This will create a copy of the video and all modifications will be done on this duplicate video keeping the original file intact.
Starting Blurring
You'll find a rectangular button named "Event Pan/Crop" on the upper side. It can also be found by right-clicking on the video track. Hit this option and follow these steps:
You'll see a video Event FX Window after hitting the above-mentioned option. Then you'll see the cropped video footage and also small rectangular icons with which you can decide the boundaries of blurring.
This anchor creation tool will help you crop images and modify the tangent angle to suit the details of the image. However, for blurring and masking, you should observe the popped up window at the bottom left and choose "Mask".
Then select the Anchor Creation Tool. This looks like a pen. Next, under the subheading of Mask, you'll see the option asking "Apply to FX". Click "YES".
Next with the rectangles and this anchor, create a boundary around the object that you want to blur. Draw it in any shape such as circle, oval or rectangle. After that, the object will be highlighted and the rest of the image may become slightly dark temporarily.
Now, you'll find multiple tabs on the timeline, such as Transitions, Explorer, Media Generators, Project Media and so on. Go to the FX tab of the video and look for Pixelate or Gaussian Blur effect. Once you click it, it will show you some of the presets on the right side describing the amounts of blurring. Select the one you like the most and drag it to the top clip.
Even though you select from presets, you can tailor the blurring effect through vertical and horizontal range. You can drag or just type the numeric requirements of blurring in the box.
You are done! See the preview by pressing the space bar on your keyboard.
If the object you want to blur is moving, you should adjust the settings to make sure that the blur can track the object's motion.
Vegas Pro makes this simple too. Simply go to Event Pan/Crop and change the 'anchor creation tool' into 'normal editing tool'. This will make the blurred area move as desired.
Now preview your changes and save them.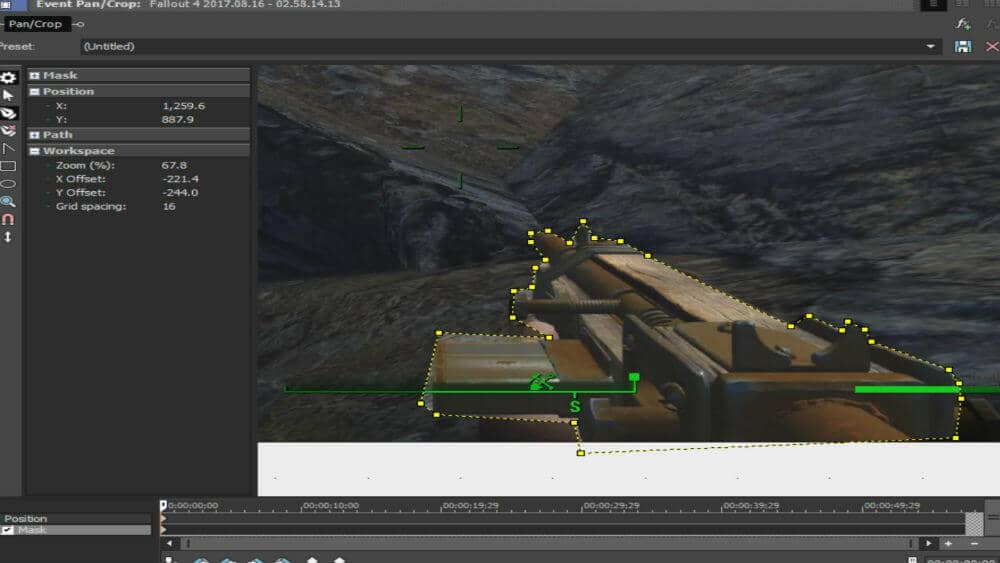 Exporting
Once you are done with the editing, it's quite easy to export file so as to be uploaded on any website over the internet like YouTube.
Select the file from the top left corner of screen.
Next select the "Export" option and a menu will appear before you.
Select the video file format you want for your video you want to upload.
Now, you have your video ready for viewing on your desktop as well as for uploading.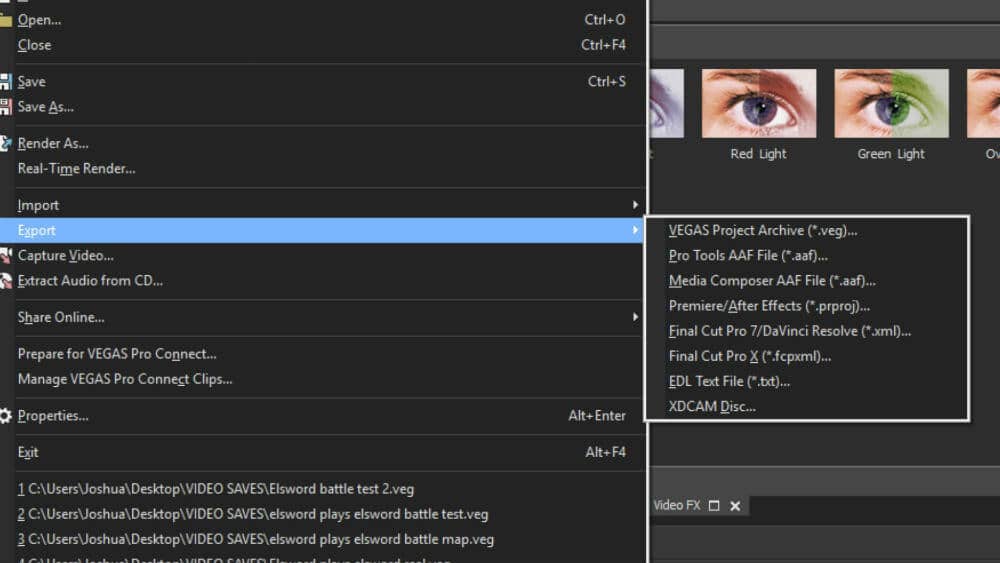 Color Match
Since videos are formed with various types of cameras, during the process of merging, colors don't sometimes appear synchronized.
You may have to do some hard work for color matching.
But your job will be made easy by the excellent color match filters of Vegas Pro and you'll get instant results.
Unlink Audio and Video
When you use video splitting option, you may notice that audios too split. However, it's not needed always.
Sometimes, some audios need to be contained in different sets of videos. Here the "unlink" feature of Vegas Pro comes to your help.
It enables you to work on every element separately as per the requirement. You can click on the video in the timeline area and just press the "U" key to unlink the audio and video.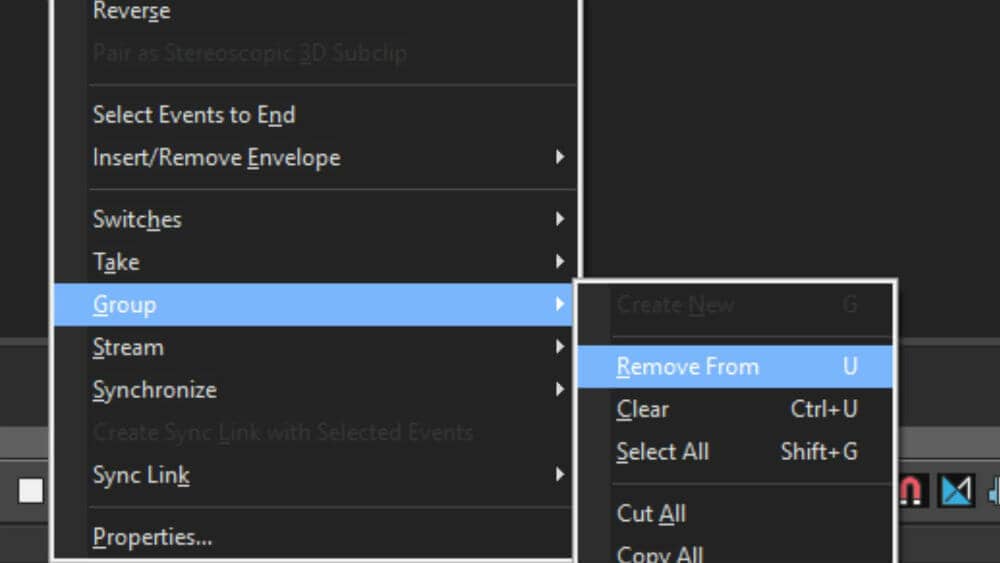 Organization
The advanced tools of Vegas Pro can also help you organize all your media files and find them easily from your system folders.
You can even add a custom media tag to all edited files and can also use keyboard shortcuts for quick calling. The option called "Smart Bin" enables you to organize different video files easily.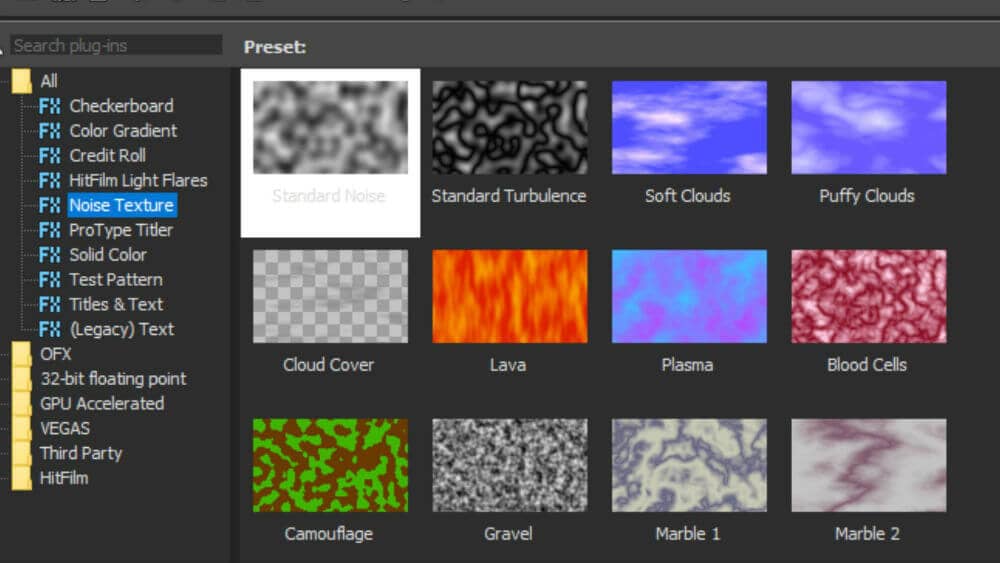 Merging Clips into One with Vegas Pro
Since there are only a few software tools that can work only on a single clip, users typically need to blend various parts of videos.
If such an issue is faced by you too, Vegas Pro can come to your rescue even here. The following steps can help you merge, join or combine various sets of video files with Pro Vegas.
Note that video clips you want to merge may not be of the same specifications.
For example, a few of them may have certain bit rates, while others may have others, or their resolution or format may differ.
In such a condition, it's impossible to merge them easily into a single film clip without encoding them. So, it's a long process.
To start with, you have to look at the project media window of Vegas Pro where every folder is termed as Bin and you are at liberty to form any number of bins.
You just have to select "Media Bin" option and then right click and click the option of "create new bin".
This option will help you call different parts of videos easily and later once you edit, they can all be placed into a single bin, i.e. the above-mentioned "smart bin".
Step 1
In this, you just import your video files on the Vegas Pro platform. This can be done in three ways:
Select the file from the top left corner of the screen.
Next, select the "Export" option and a menu will appear before you.
Select the video file format you want for your video you want to upload.
Now, you have your video ready for viewing on your desktop as well as for uploading.
Step 2
Now the option of moving, combining or splitting the videos can be directly used.
Once your video clips come on the software timeline, you can easily edit them. It's also easy to cut down the undesired part or change the video frame positions as required.
Step 3
If you want to merge various video clips into one, you can just first remove the space between the video clips by clicking on the space and then pressing delete key. Previews of all your changes can be seen as required.
There are three different ways of merging and they are as follows:
Method 1: Press Ctrl + A and then click "file" option. In the popup window that will appear, you have to set name of your project.
Change resolution and output format and then click the "render" option for creating a new project.
Method 2: Press Ctrl + M or click Tools and then Render.
Method 3: Choose File and then Save your file.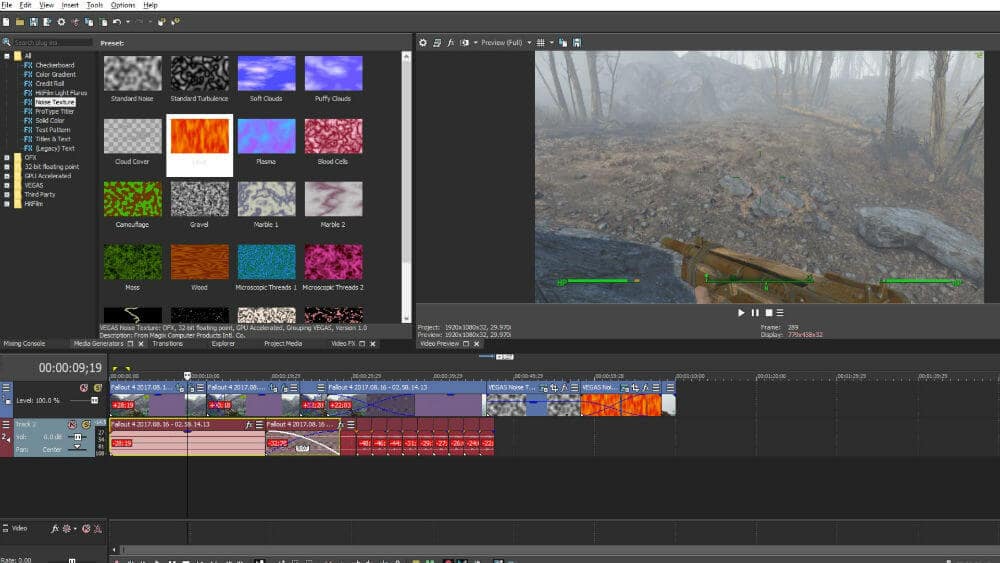 Have a look on my Youtube channel to have an idea of the possibility of this software, I have very good success with some of my videos!
Here you can get a free trial of Vegas Pro and start editing your amazing videos!
Hopefully, these tips will be of a lot of help to you in editing your videos easily with Vegas Pro. Happy filming!